Smart home technology and home automation is terminology that has been around for years and generally conjures up the image of luxury properties with expensive lighting designs, multi-room audio and tablets to control everything. When I joined Atamate, that was the supposition of what our offering was by most of my friends and acquaintances. Many people imagined it was very complicated and you'd need a PhD in Computer Science to be able to use it. The reality is that it's very flexible, simple to use and affordable. I think the best analogy there is too describe it is the following.
Smart home? Think cars!
In the 1980's small embedded computers called ECU's (engine control units) were introduced into cars to improve performance, reliability and fuel efficiency. Since then cars have become increasingly controlled by computer power. To start with there was central locking and alarm systems, electric windows, air conditioning. Then came mobile phone integration, adjustable suspension, cruise control, antilock brakes, traction control etc. Now there is technology to warn you if you are straying from a lane, to help you parallel park, to open the tailgate with a swing of your leg etc. All presumably leading up to the holy grail of driverless autonomous vehicles.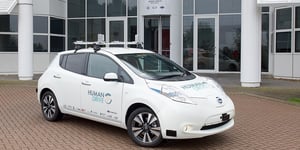 Compared to cars from the 70's and 80's, today's cars are far more comfortable, more convenient, safer and easier to drive. And cars are comparatively cheaper now than they were back in the 60's and 70's. Yes, in engineering and design terms they are far more complex, but they are much more reliable, easier to use and safer.
Comfort and efficiency
Atamate does similar things for houses. At the core of the system, heating/ventilation /hot water will be more efficient, cheaper to run and more eco-friendly. Better air quality and temperature control makes the house more comfortable to live in all through the year. (Optional) control of lighting, audio & video, motorised curtains/blinds/windows, garden irrigation etc adds to convenience (and fun!). Entry systems and security make you safer. And once the system is set up it generally runs itself and so can simplify living and give more quality time.
On top of this, Atamate can monitor the performance and 'health' of the building, and also activity in the home. Examples of use of this are to analyse the data and further improve the performance, or monitor the room occupancy of an elderly or infirm resident and send alerts to carers/relatives if required.
Atamate is holistic, simple and affordable. By holistic we mean that one system covers all the different functions whether or not they are inter-related. Our technology is well designed and is simple to use. Maybe surprisingly, an Atamate installation is not expensive and can often save capital building costs whilst outperforming typical alternative setups.
Although I've used the comparison with cars, similar could be used with most things using technology, whether it is cameras, phones, domestic appliances, etc. For a variety of reasons, technology to control building services in homes has not developed as fast, and Atamate is endeavouring to narrow that gap.
For more information, or if you have a specific question please drop us an email on info@atamate.com or fill in the form below.