Automated gates can increase safety, privacy and comfort
Smart controls bring an elevated level of security to your property in many ways. You can set up lights to turn on automatically if movement is detected outside after dark, or use break-glass sensors on windows and doors to detect any breaches. Another way in which smart controls can keep your home safe and secure is with automated gates.
Here are some of the benefits to having automated gates, and the ways in which smart controls work with them.
Security
As well as being a visual deterrent, automated gates create another barrier between you and unwelcome visitors. Smart controls can combine surveillance and intercom with your automated gate, with the result that you can see who is trying to enter your property and communicate with the potential entrant. With smart controls, you can use these features remotely, meaning that you can receive your online shopping or Amazon parcel even when you're out of the house.
Safety
Rest assured that any children and pets are safe from cars with an automated gate. The gates will both keep traffic out and keep anyone from wandering onto the road and into danger. Use the app that works with your smart controls to check that the gate is shut, no matter where you are.
Privacy
The physical barrier created by automated gates will increase your privacy and your own peace of mind. Experience the pleasure of feeling truly free and unobserved in your own home. There's no need to worry about nosy neighbours or passersby peering over the fence, and no more uncomfortable conversations with persistent salespersons or those trying to encourage you to consider their religion. It's quick and easy to find out who's outside and what they want to talk to you about, and just as easy to politely tell them that you're not interested and definitively cut off communication, in a way that's rather more polite than slamming the door in their face.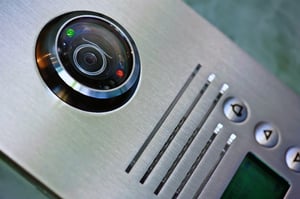 Comfort
Due to the connectivity provided by smart controls, your automated gates can function together with other aspects of your home. For example, the gates opening as you come home could trigger lights turning on around the front porch or in the back garden. The possibilities are endless and everything can be set up to work automatically using your smart controls.
Smart controls can work with whichever automated gate system you choose, creating functionality and convenience that works in cooperation with the rest of your home.