Smart control of Airbnb properties.
If you're thinking of going into the Airbnb business, building control can help you in four areas:
Minimising utility costs.

Remote access control.

Managing maintenance around the tenants.

Features such as lighting scenes and audio-visual equipment.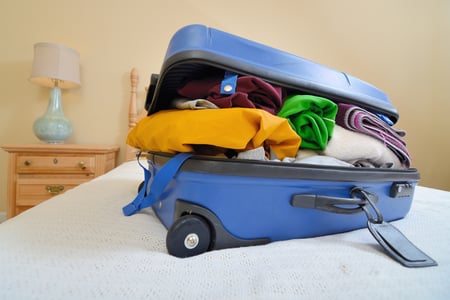 The last few years have seen a boom in the short-term letting market, mostly driven by people renting a property rather than staying in a hotel or bed and breakfast. The boom has made Airbnb into a multi-billion-dollar business in the last ten years, even though they don't own any of the property they let. They simply connect prospective landlords with prospective tenants and take a commission.
If you're thinking of offering a property for a short-term let through Airbnb or anywhere else, it's worth considering installing smart building control in the properties you plan to let. A smart building reacts to what the tenants are doing, while you can monitor and control the property from anywhere with an internet connection.
Smart building controls cut utility bills
Building controls can save money in a rented property as well as in your home. Briefly, a smart building will make sure that the lights and the heating are only on when they're needed. As short-term tenants aren't paying the bills, they're not as motivated to keep them down as they might be at home. It's not a real holiday for them if they can't take a break from pestering their kids to turn the lights off when they leave a room, and working out how to turn the heating off when they go sightseeing for the day is likely to rank somewhere below packing the sunscreen on their priority list. A smart building will do it for them.
Controls can also help with the days or possibly weeks at a time that the property is likely to be between tenants. You don't want to be running the heating during that time, let alone heating the water. Building control lets you switch everything off between tenants without needing to go to the building, and switch it back on in time for them to have a cosy house and a hot bath by the time they arrive.
Remote access control for Airbnb
If you're an Airbnb host, the bane of your life is likely to be the redeye: that overnight flight from Los Angeles or Singapore that deposits a bleary-eyed family on a doorstep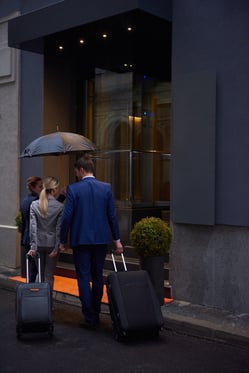 in Slough at five o'clock in the morning. You have to welcome them not only with their keys but also with a smile that belies the fact that you're feeling as bleary as the tenants. It's no fun rolling out the welcome mat at that hour if you live next door, but downright uncivilised if you've had to drive in from Bristol.
A control system can do away with both the keys and your need to be there by replacing them with a PIN code or with near-field communication (NFC): the same system that's used to make contactless payments using a phone. One text message is all that's needed to allow the tenant to open the door with their phone or Apple watch, leaving the host where a good host belongs at five o'clock in the morning: in bed in Bristol.
You can sleep that much better for not having to worry about whether that key that wasn't returned might find its way to a burglar. You can issue, cancel or change access codes whenever you need to. As well as letting in the tenants, you can also use the access control to let in cleaners to tidy the place up between tenants.
Scheduling maintenance around short-term lets
The sensors that control the building services also monitor them, which let you plan maintenance around your tenants. If a pipe is leaking, the building can let you know there's a drop in the water pressure that might cause the pump to fail if it's left to its own devices. A failed pump is expensive to replace but worse, it's likely to happen while a tenant is in the house and using the water. You can apologise as much as you like and call an emergency plumber, but you've seen the last of that five-star review you were relying on to bring in next month's tenants.
The sensors in a smart building warn you of problems like that before the tenants even notice them, so you can schedule the repairs for between lets. Then you can use the
access control to let in plumbers, electricians or whoever you need to fix the problem the sensors have flagged up.
Your smart home-from-home
Short-term tenants might be looking for a clean and warm place to stay that won't take too big a bite out of their budget, or they might be willing to spend some more for a home-from-home that they'll be spending some time in. A control system can integrate the features that make the property into more than a box with a bed for the night.
As well as switching off the lights in a room that's not in use, a smart system can let the tenant control the lights from an app on their phone. If they want to invite guests to dinner, they'll want bright lights over the dinner table to show off their culinary genius. A flick of an app can switch to softer mood lighting for when they crack into the second bottle of wine.
Whether they're entertaining or not, they may want to watch a film in better quality than their laptop allows. A projector lowered from the ceiling turns the living room into a home cinema, saving them the hassle of setting it up and saving you from worrying that they might break something in the process. While it's lowering the projector, the control system can be dimming the lights and lowering the blinds to give the full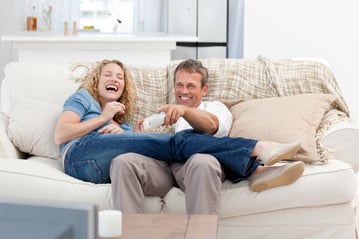 popcorn experience with all the screaming, crying and cheering that the director intended.
A control system can use a digital media player like Google Chromecast, which we've reviewed, to integrate with the tenants own laptop or phone, so they can use their own Netflix subscription.
Where there's light, there should be sound. A wireless sound system like Sonos can match any Odeon or Vue for quality, and can incorporate speakers in every room so the tenant can be followed around the house by Bach, Stormzy or a Radio 4 panel show on basket weaving if they so choose.
Ask us for more
If you'd like to know something about smart home technology in short-term lets, please feel free to ask us on the form below.
If you're interested in our future blogs on smart building controls and all things associated, please email us and we will try to answer all your questions - info@atamate.com