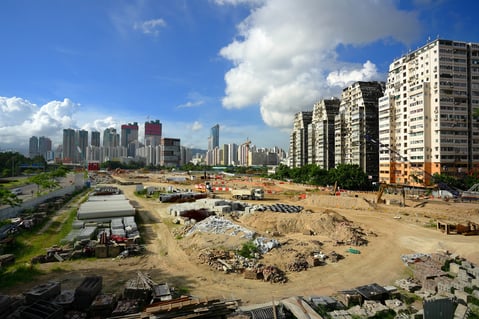 The client
A developer is constructing two residential blocks, each of which will contain 100 apartments. There are also communal facilities including a gym in one building, a swimming pool in the other and communal lounges.
Both buildings will be constructed from high-quality fabric that will retain heat sufficiently well that the developer has decided that all space and water heating will be electric:
Space heating will be provided by panel heaters in each room.

Water will be heated by an electric boiler in each apartment, drawing most of the heat energy from the ventilation exhaust using an exhaust air heat pump.
The problem
When developers approach Atamate about such apartment blocks, they are usually interested in atBOS's core function of automating the heating and ventilation. However, they often have other concerns and two are particularly common.
Comfort
Potential buyers often have poor experiences with newly built apartment blocks. Many are designed to maximise heating efficiency by minimising air leakage at the expense of poor internal air quality and overheating during the summer.
Because an all-electric system does not need hot water to be piped around the building, it removes a major source of the internal gains that cause overheating. Atamate can help a developer to make that case, and back it up with the atBOS sensor network which, by providing realtime and retrospective data, can demonstrate that the building's internal environment remains within the thermal comfort range and that air quality remains high.
Energy use
In a multi-user development, each apartment needs to have a meter certified to the Measuring Instruments Directive (MID) standard for the allocation of bills. Management and maintenance are facilitated by more granular data that shows where data is used within the building. However, residents are often concerned about the privacy issues that arise from data collection.
Entry control
Managing access for a single building with multiple owners can be challenging. Any change of apartment ownership raises a security concern if the previous owners still have access to the main entrance and a flat, and there is often a need for deliveries or maintenance staff to enter the building.
The Atamate solution
If atBOS is installed, it will automate heating and ventilation throughout the building, keeping the internal environment comfortable while maximising energy efficiency. It will also address the other concerns that developers often raise.
Comfort
The atBOS installation includes sensors in every room of the buildings, both within the flats and the communal spaces. Every resident can view the following parameters in realtime or retrospectively:
Temperature.

Carbon dioxide.

Relative humidity.
The sensor network uploads its data to the cloud where any resident can access it in realtime or retrospectively, confirming the developer's commitments to thermal comfort and high indoor air quality.
Energy use
The atBOS collects data from an array of meters, which may be installed at different levels depending on the degree of granularity required:
Total electricity consumption within the building.

Electricity consumption by every flat and communal area.

Sub-circuit meters enable residents to see how much energy is used on heating, cooking, hot water, lighting and by their ring main.
Every resident can access the data to see how energy in their own apartment is being used, but obviously cannot access data from other residents' apartments. The atBOS hub is pre-programmed to identify anomalous increases in energy use, which may identify faults or maintenance requirements, and to alert residents or building management with SMS alerts.
Because data security is a concern with every installation, atBOS uses the same 1-8bit advanced encryption standard used by banks. The only way to access it is through the user interface, for which each user is allocated a password and access privileges as conferred by the designated owner. The privileges of any former resident may be revoked by the owner and if there is any concern about a password being compromised, it can easily be changed.
Entry control
The atBOS enables multiple options for entry control which may be used in parallel. The main entrance and every flat's door can be controlled using either a keypad, a smartphone app or both. New residents can be issued with entry codes while the codes issued to outgoing residents can be revoked.
Delivery and maintenance staff can be issued with time-limited codes for the main entrance and any flats they need to access. The camera and intercom for the main entrance can be accessed by smartphone so as well as allowing residents to admit deliveries, owners intending to rent flats can admit maintenance staff or viewers into unoccupied flats without needing to be in the building.
Added value
Developers are often involved in the first year in which a new building is occupied, using atBOS data for post-occupancy evaluation to be part of the building's commissioning. The approach is formalised in the Soft Landings framework established by the Building Services Research and Information Association (BSRIA), ensuring that the people who can rectify flaws in the building's fabric and services are available to do so quickly.
Applying a framework like Soft Landings and enabling residents to monitor their indoor environment improve a development's environmental, social and governance (ESG) rating. Hence incorporating atBOS at the planning stage helps to attract investors.
At a glance
Project description

Monitoring and automation of newly built apartment blocks

Atamate controlled systems

Atamate data products

Indoor environment monitoring

Metering

Reporting

Bill allocation

Mechanical systems

Panel heaters

Electric boilers

Mechanical extract ventilation